Frequently-Asked Questions
This list of questions was compiled in conjunction with our technical support staff and development team to assist customers in answering some very common questions.
Please check the list of questions to see if your question is listed here before contacting technical support.
Web-based Clients:
In-house Clients:
Frequently-Asked Questions Document, Web-based Clients

I sent a report and it says, "Failure". Should I keep resending it until I get my check marks?
If you get a failure, the first thing you should do is call your credit bureau to find out why it failed. Sometimes, something as small as a misspelling or unneeded punctuation. Constantly resending the report may result in extra charges.


I sent a report and it came back saying "Error". What does it mean?
An "Error" means that you either forgot to choose a Report Type, Permissible Purpose, or your repository setup is incorrect. Contact your CRA and they can resolve this problem for you.


Help!! When I try to log into iCreditVision, the browser times out or says 'Page cannot be found'.
If you are having problems accessing the iCreditVision login screen, to to Technical Support and try the connection tests.

I get a message saying 'invalid username/password; logon denied"
Check to make sure that you are using the correct Username and Password. Remember that usernames and passwords are case-sensitive and must be typed in exactly as they were given to you by your CRA. A login of 'ADAM123' is not the same as 'Adam123' or 'adam123'.

Frequently-Asked Questions Document, In-House Clients

When I log into CreditVision it says, "This version of credit vision is already expired. Please down load the recent version from icreditvision.com.". What do I do?
First thing you need to do is install the latest version of our software from our download center.

I'm behind a firewall and I'm having problems connecting, what can I do?
Your firewall has to be configured to open port 31117 to allow connections and responses from our systems to yours. Chances are, your system administrators have this port closed on the firewall, or that by default your firewall does not allow access through this port. Opening this port will allow connections; opening this port to only our IP address (66.180.197.226) will make even more secure.

What do the connection error messages mean?
Protocol adapter error: no Internet connection detected. Try the Internet connection tests built into the software.
Operation time out: check your Internet connection.

I sent a report and it says, "Failure". Why did it fail?
There can be many reasons for your report failing. These are sometimes caused by minor misspellings, inappropriate punctuation,
and information being left out. The Raw Reports is the best place to look when your report comes back with a "Failure". The Raw Reports will come
back with a message from the requested Bureau telling you why your report failed. If it comes back completely blank, it usually means
that either CreditVision or the requested repository is having problems.


Help!! The server is down, and I can't call anybody. How can I let someone know I am having trouble?
If you go to the after-hours support page, you can use the after hours contact form to notify our personnel about the CreditVision server being down. This will immediately page someone and notify them about your dilemma. Please note that this is intended for "system down" purposes after regular business hours only, not as general support. Messages sent with general support questions will NOT be answered after hours. Please
call during regular business hours for general or routine questions.


Under the Remarks tab, one of the Remarks states, "Hawk System Access not authorized." How can I access Hawk System?
HAWK is a fraud detection service offered by TransUnion. You will need to call TransUnion and get this service activated for your subscriber id.


What do I do if I don't understand the Raw Reports?
Call your repository representative.


Why do items get updated on reports even though I don't remote the reports
back to my clients?
This is correct because the remote simply contains the settings to generate a new report. In other words, when the remote user says print, CV will read the data and create a new report.


I sent a report and now it says "Error" where my check marks should be.
This may be 3 things:
1) Has this client been setup to access the repositories?
2) Under the Query tab, do you have anything chosen for Report Type?
3) Under the Query tab, do you have anything chosen for Permissible Purpose?

A Username/Password is not working:
was the username or password changed recently?
do they meet the requirements?
when the username or password was changed, was it inactivated
then reactivated again?
Any of these could point to the problem. First try deactivating, and then reactivating the user. Wait 15 minutes for the system to update settings.

How do I install the software,
or software updates?
Go to the Download Center section of this site, and login using your in-house login and password (bottom of the Download Center page).

At the bottom of the next screen are links to the software installers: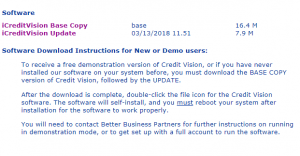 Choose the release that you need (in most cases, only the upgrade is needed).
If you need to do a full installation, install the FULL RELEASE first, and then install the UPGRADE RELEASE (two steps).
To install the release, click on the link. A download message box will appear. Choose Save and you will be asked to choose a location. It's usually easiest to choose your desktop.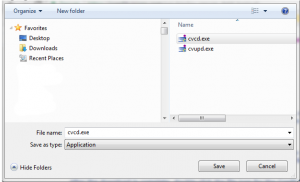 Locate the update.exe file on your desktop. Double click on the icon, and the installer will appear (it is called a Self-Extractor):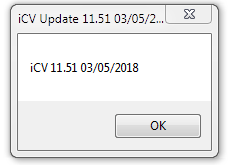 Click OK and the installation will begin.  The files will automatically be saved to your C:\iCV\ folder.
Your upgrade is complete! You can safely delete the download file from your desktop.
Start CreditVision, and click Help->About. You will see the information about the currently installed version.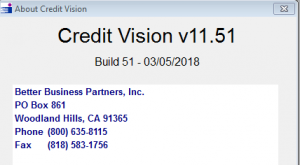 The procedure for a full installation is the similar. Just install the 'Base' release, and then install the 'Upgrade' release.